Buy Garlic
Please note that if you want your garlic shipped we will email you with the cost of shipping when we have filled your order.
We ship anywhere in the US including Alaska and Hawaii but do not ship to Canada.
Click HERE for a few words on buying garlic by the bulb compared to by the pound if you are interested.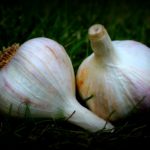 Probably the most popular hardneck garlic in America.  Contrary to what some people think, this garlic variety is actually named after Al Music, a Canadian that brought this garlic to Ontario in the 1980's.  This is a very hardy porcelain variety with 4-6 cloves per head and an excellent flavor that works well in dishes or by itself.
$

2.50 –

$

3.00
Select options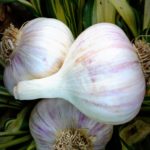 Also known as German White, Northern White or German Extra Hardy, this northern garlic thrives in Minnesota and has a reputation for a bit more heat than other porcelains.
$

2.50
Select options